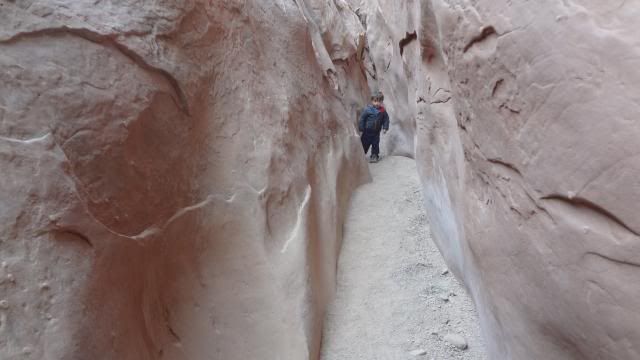 (Little Wildhorse Canyon)
Last Friday I left work early, pedaled home, and helped Laura load the Avalon. By 3 we were on the road; by 8 we were in the Hampton Inn in Idaho Falls. The next morning we gassed up in IF, beered up in Pocatello, and by 11 am dropped off Malad Summit, hit the bump in the highway, and started seeing SPEED LIMIT 80 signs. We were in Utah.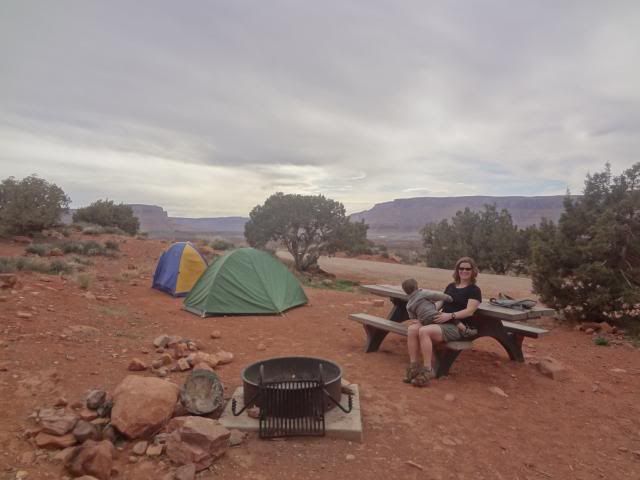 (Camp at Fisher Towers)
I lived in Utah for 13 years, which by no means made be a native, though my four-year term as the state's travel writer helped. Although I had great affection for Utah, in truth the state started to wear on me, and my departure was not without mixed feelings. Last week's return was the first time I had really taken a hard look at Utah since I left in 2002. What's that about never returning home again?
(Camp at the Needles district of Canyonlands National Park -- probably the nicest national park campground I've been to)
Our 10 days in Utah after a 12 year absence showed the state to be as beautiful, magical, and stupid as ever. After several years in Montana, Utah's mountains are less grand but more striking in their juxtapositions.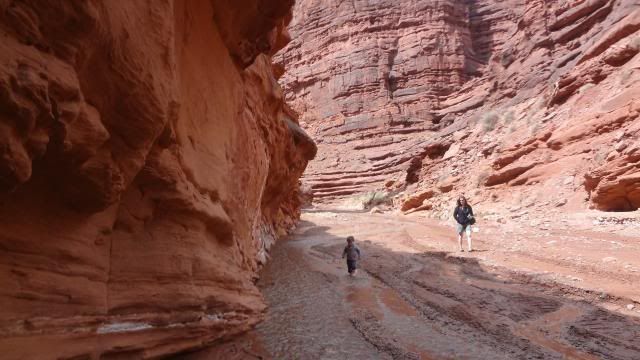 (The narrows of Onion Creek)
The city (i.e., the 100-mile north-south sprawl of the Wasatch Front) is both grittier and flashier than I remembered. Moab is nuttier, which means the empty spaces around it are quieter. It's still possible to roll through the San Rafael Swell in twilight and pitch two tents wherever the sand allows – but it's no longer possible to do the same in most of Grand County. (As an aside, we found that proper campgrounds usually filled before noon -- Montana this was not.) You can just pull up and hike Little Wildhorse Canyon, one of the world's great wonders, whenever you want, though now the 5 miles to the trailhead is paved and there are two overflow parking lots in addition to the main trailhead parking.
(Alone in big landscapes at Arches National Park)
(Little Wildhorse Canyon)
And the daffy controversies are still there: the second weekend of our visit coincided with the LDS Church's twice-yearly general conference; highlights included the story of a group of women wanting to attend a men-only priesthood meeting (church officials told them to stop creating dissent) and one of the church's top apostles accusing other religions of creating contemporary, comforting, head-patting gods who ask little or nothing of their flock. "Talk about man creating God in his own image," apostle Jeffrey Holland said; can I assume he was oblivious to the irony of his statement?
(If this is Spring Break in southern Utah, then that must be snow)
Moab started to look less like what I thought Moab should look like and more like Pigeon Forge in 2001, when a developer built a scenic gondola at the north entrance to town. The gondola never ran because the county would not give the developer a business license; lines of visitors waiting to board the gondola would certainly not add to Moab's charm, but in a way the remains of the ride which still greet motorists signal better what the city has become.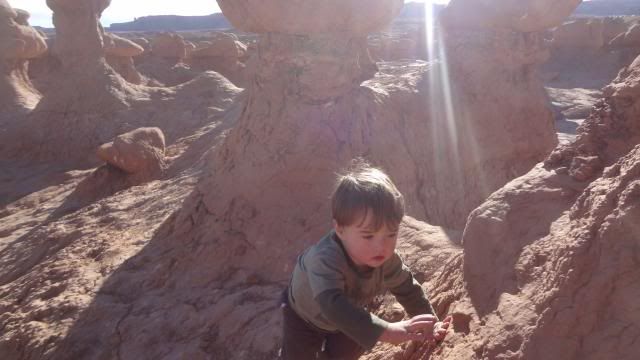 (Goblin Valley)
If you really were hoping on the gondola ride, take heart: just past it are zip lines, Hummer tours, ATV tours, skydiving, scenic flights, breweries, art galleries, and taco trucks. Jim Stiles used to pen zany cartoons of a Moab populated by ersatz tourists, locals, and developers, each of them crawling over the other to get at a piece of desert cliff. Thumbing through a copy of the Canyon Country Zephyr while gassing up in Moab or standing in line at the CityMarket, I felt he was penning a vision of the city I would never see. Turns out he was merely prescient, not delusional.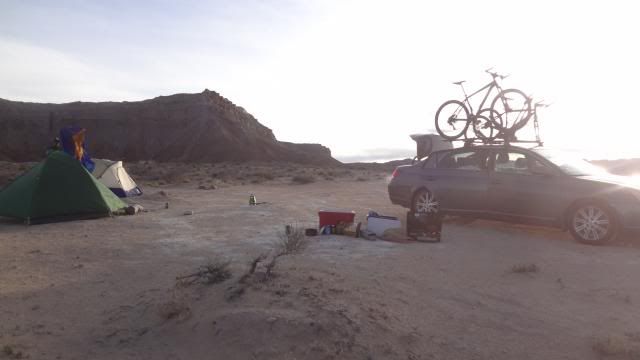 (Camping wild on the edge of the San Rafael Swell)
"Moab, thou art my washpot", noted Edward Abbey, quoting some version of the Bible he found. The full verse adds: "over Edom will I cast out my shoe; over Philistia will I triumph."
(Going big at Lindsey Gardens; I lived across the street during and after college)